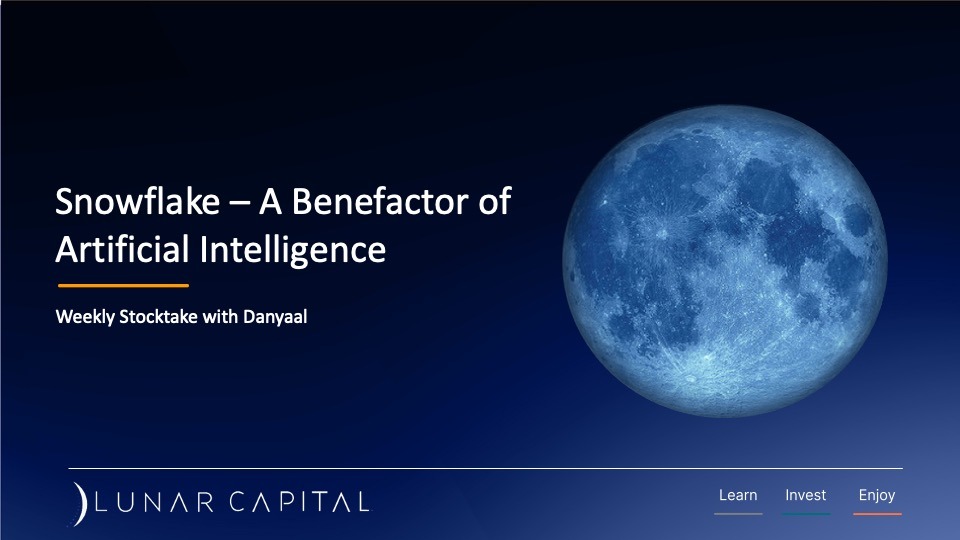 Snowflake, owned by Lunar Capital's clients, assists businesses in organizing and structuring their data, and providing insights on their business. Data is crucial for gaining a clear insight into a company's value, it's performance and the factors driving the business. Snowflake efficiently organizes and stores data, enabling companies to easily use and share their information with others; while also providing the management with insights into their business.
Numerous questions have been asked regarding practical applications of Large Language Models (LLMs) in business and how companies can effectively integrate them. Snowflake is deploying LLMs on the structured data that is stored in their cloud infrastructure. The goal is to empower companies using their service to directly query their data without requiring the expertise of data scientists. The key lies in formulating precise questions, making the technology accessible to businesses as long as they have the necessary financial resources to use Snowflake's services.
Snowflake released their Q3 2024 results last week. Revenue for the quarter increased by 32% year on year to reach $734 million. The gross margin increased from 74.6% in Q3 2023 to 78.3% in Q3 2024. Despite having strong revenue growth, Snowflake's sales and marketing expense as a percentage of revenue was 48%. Snowflake also recorded an operating loss of $260 million.
Snowflake is classified as a high-growth company. A common characteristic among high-growth companies is that they operate at a loss in early stages to focus on acquiring new clients and enhancing their service offering. Once they reach critical mass, they then have sufficient revenues to be profitable, rewarding shareholders through dividends and share price growth. However, this strategy comes with inherent risks. Potential challenges include the failure to achieve anticipated revenue growth due to factors like lower-than-expected demand for their product. External factors, such as shifts in the macroeconomic environment, can also necessitate cost-cutting measures from their client base, which can impact Snowflake's revenue growth.
If revenue doesn't increase as anticipated, the company may be compelled to secure additional funding through debt or equity. This could result in incurring additional interest expenses or diluting existing shareholders through the issue of new shares.
Snowflake is held in the Lunar BCI Worldwide Flexible fund. It is also held by Lunar Capital's Offshore Portfolio clients.
Click here to access your account to view statements, obtain tax certificates, add or make changes to your investments.
Our email address is: [email protected]