Lunar Capital Weekly Roundup
| Index / Fund / Rate | Start of Year | Last week | This Week | % change YTD |
| --- | --- | --- | --- | --- |
| JSE ALSI | 73 723 | 65 675 | 64 271 | -12.82% |
| NASDAQ Composite | 15 833 | 10 652 | 10 321 | -34.81% |
| S&P 500 | 4 797 | 3 640 | 3 583 | -25.30% |
| Prime Lending Rate | 7.25% | 9.75% | 9.75% | 34.48% |
| Lunar BCI WW Flexible Fund | 165.68 | 145.28 | 141.74 | -14.45% |
| USD/ZAR | 15.96 | 18.14 | 18.37 | 15.10% |
| EUR/ZAR | 17.95 | 17.66 | 17.85 | -0.56% |
| Brent Crude | 77.86 | 98.52 | 91.66 | 17.72% |
Source: iress
Company and Market News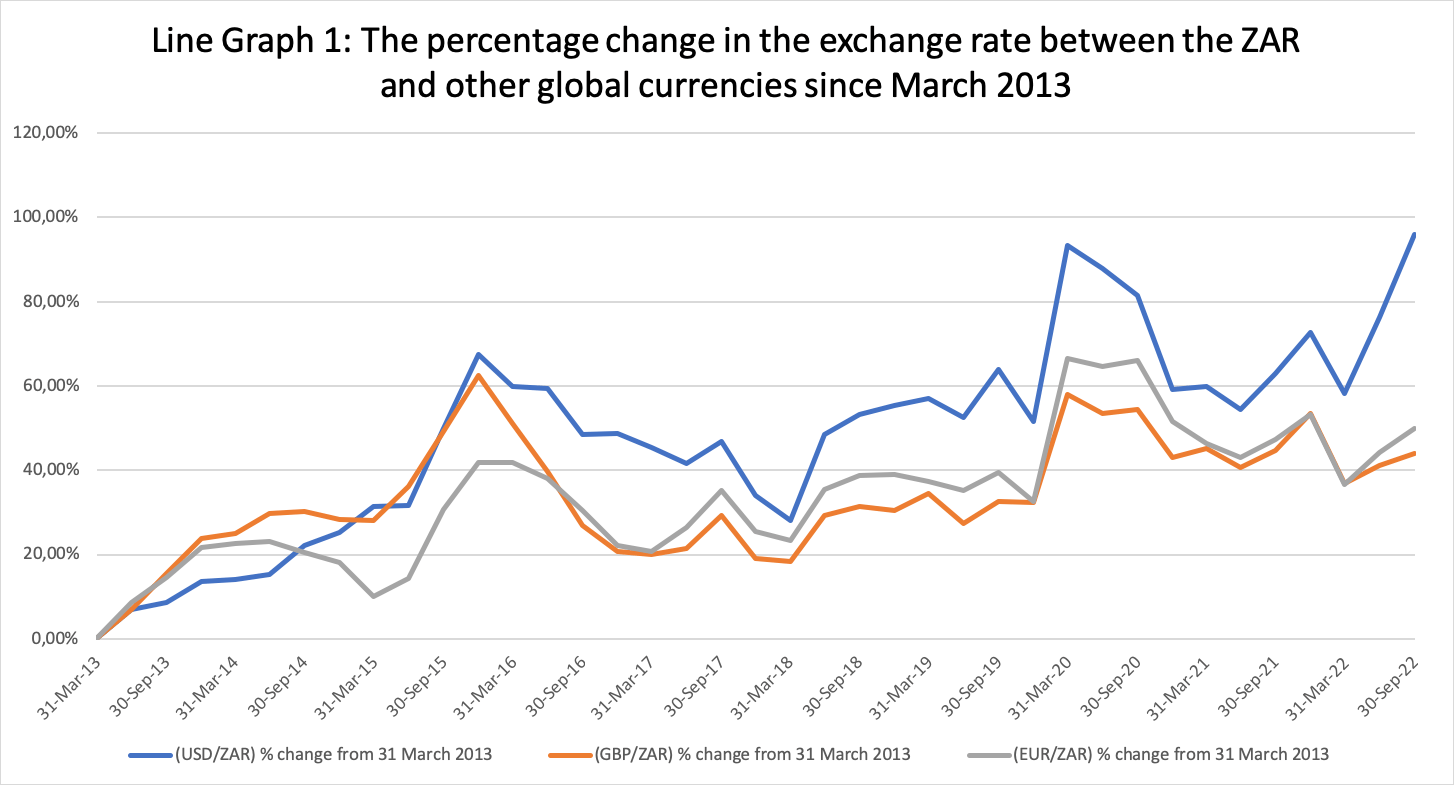 Source: Iress
                                       The graph is for illustrative purposes only

Source: Iress
                                       The graph is for illustrative purposes only
There has been a lot of talk in the news about how poorly the South African Rand (ZAR) has done this year. We think that is a misconception since it doesn't necessarily tell the full story if we only compare how the Rand has performed against the US Dollar (USD).
Over the last decade, the ZAR has depreciated almost 50% against the US Dollar, and approximately a third against the British Pound (GBP) and the Euro (EUR). Graph 1 shows this inversely since 31 March 2013. The USD/ZAR exchange rate has increased by nearly a 100% (i.e. 50% depreciation of the Rand), while the GBP/ZAR and the EUR/ZAR have both increased by just under 50% each (i.e. 33% depreciation of the Rand).
This year, the ZAR has also depreciated against the USD. However, Graph 2 shows that the ZAR currency isn't the only currency that has depreciated this much against the USD. The British GBP, EUR and the Japanese Yen (YEN) have depreciated even more against the Rand. The main reason of the USD's strong performance against all or at least most currencies this year is that the US Federal Reserve has been increasing interest rates in the USA at a much quicker pace compared to its economic peers. This is to try and tame high inflation in the US. The higher interest rates relative in US Dollar interest paying assets makes it more attractive to be invested in than interest paying assets in other currencies. Further, the dollar is considered as a safe haven and approximately 60% of globally disclosed foreign reserves is denominated in USD.
So, why has the ZAR held up better than other arguably stronger currencies? South Africa's main export is mineral resources. Most mineral resources are priced in USD. When South Africa wants to export minerals to other countries, the other countries will pay the SA companies in USD. The South African companies will then need to convert the USD to ZAR. Which will result in the price of the ZAR increasing. Another reason the ZAR has performed relatively well, is that some of the long-term SA Bonds also have relatively attractive rates. For e.g. the R2044 offers investors current yield of 11.85%. This still gives holders of the bond a positive real return, when taking inflation into account.
Disclosure: The R2044 bond is held in the Lunar BCI Worldwide Flexible Fund.
Read our full Disclosure statement: https://lunarcapital.co.za/disclosures/
Our Privacy Notice: https://lunarcapital.co.za/privacy-policy/
The Lunar BCI Worldwide Flexible Fund Fact Sheet together with our Disclaimers can be read here.
A&EO.